EVANGEL CHRISTIAN WINS 2018 NATIONAL CHAMPIONSHIP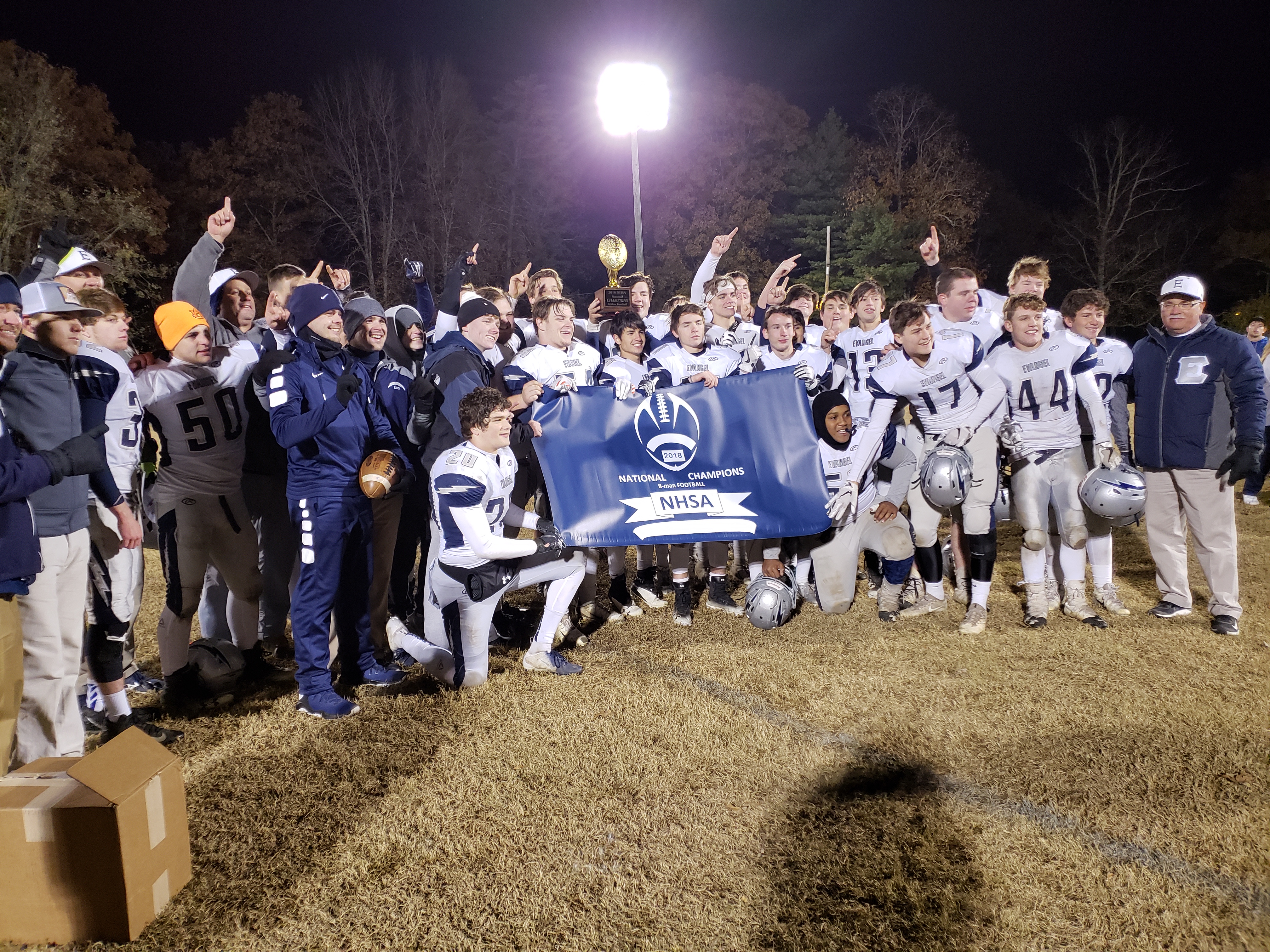 Evangel Christian defeated unbeaten Christian Community 36-20 to win 2018 NHSA National Championship. Christian Community scored first with 3:08: left in the first quarter on a QB Nathan Rowley short run to go up 6-0. Then with 7:38 on the clock before halftime, Rowley's TD pass to Mark Pugh pushed the score to 12-0 and it looked like the Colts were in complete control of the game. Evangel was able to drive to the 4 yard line near the end of the first half but fumbled trying to get into the end zone. Down 12-0 at halftime, kick returner Dawson Humphries took the second half kickoff and return it for a touchdown and QB Tyler Henderson was successful on the 2-pt attempt to pull Evangel to within 4 at 12-8. Christian Community answered at the 7:08 mark of the 3rd qtr. with a score of their own as Rowley to Pugh connected again for the touchdown then Rowley pass to Isaac Alton tacked on the 2 pt attempt to go up 20-8. Taking the kickoff, Evangel marched down the field scoring on a nice run by Noah Shears to make the score 20-14 with 5:00 left in the 3rd quarter. Both offenses were moving the ball, however, a Rowley to Pugh pitch of the option play was snagged by Dawson Humphries who scored on the pick 6 to tie the score and then was able to get into the end zone on the 2-pt attempt giving Evangel the lead at 22. With Shears doing the heavy lifting, Evangels ground game began to take it's toll as the Lightning drove down the field and with 8:32 in the fourth quarter scored on a short run by Daniel Viles and Shears scored on the 2 point conversion to give the Lightning a 30-20 lead. Christian Community, who usually wears out teams in the 2nd half, had the tables turned on them as they just couldn't get the ball into the end zone. Several end zone passes were dropped and Evangel took over. Pounding the rock and content to run the clock, the defense could not stop Shears and with 3;48 left in the game, he broke loose for the final touchdown and a 36-20 lead. Evangel outscored Christian Community 36-8 in the 2nd half to secure the victory and the title of 2018 National Champions over the 2017 National Champions.
Click here to see scores, wins, losses and rankings for 8-man football teams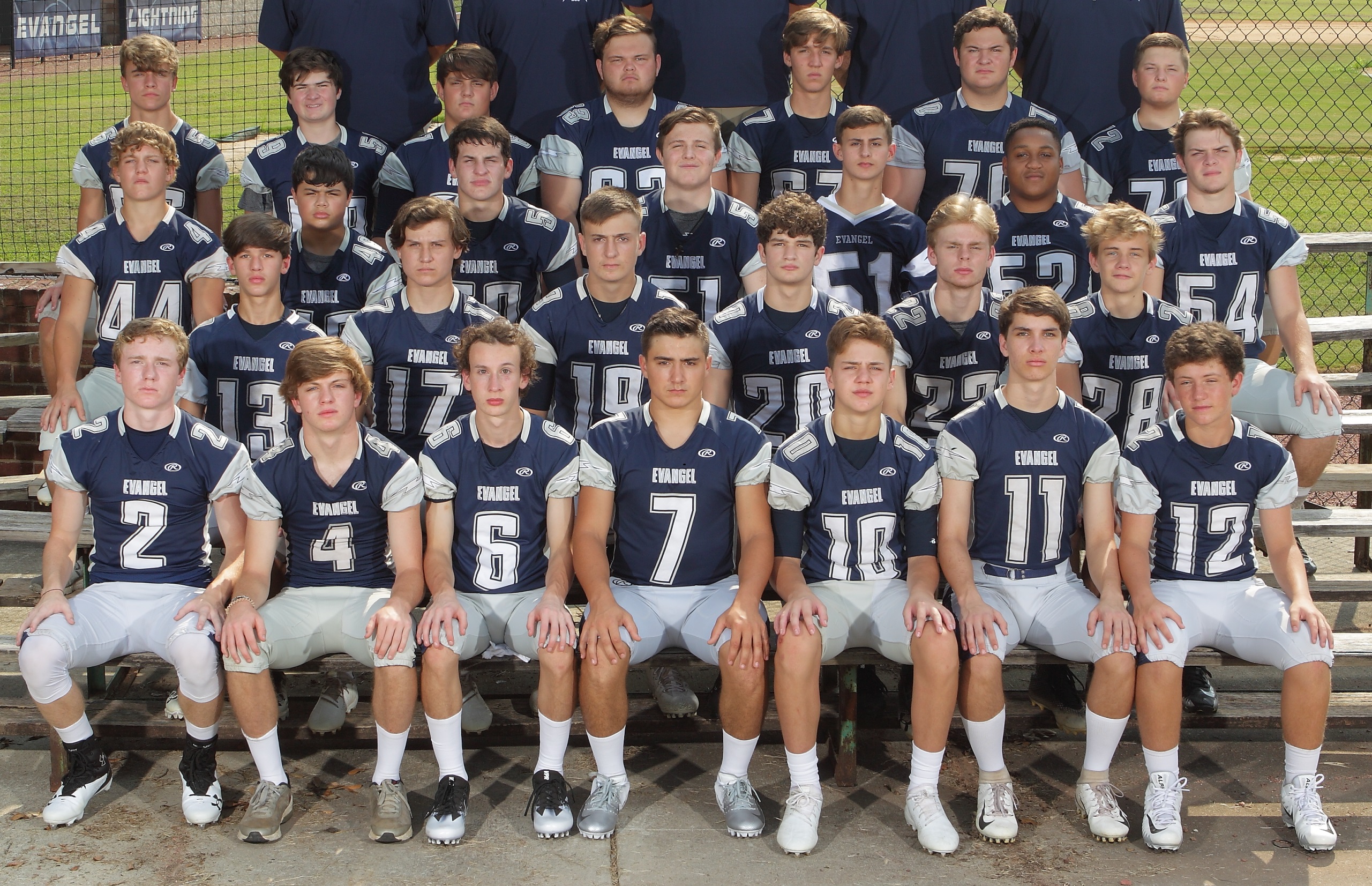 EVANGEL CHRISTIAN LIGHTNING, ALABASTER, AL.

CHRISTIAN COMMUNITY COLTS, WHITE HOUSE, TN.
____________________________________________
2017 NHSA NATIONAL CHAMPIONS CHRISTIAN COMMUNITY COLTS (WHITE HOUSE, TN)


____________________________________________
2017 NHSA National Championship Game Film on youtube.com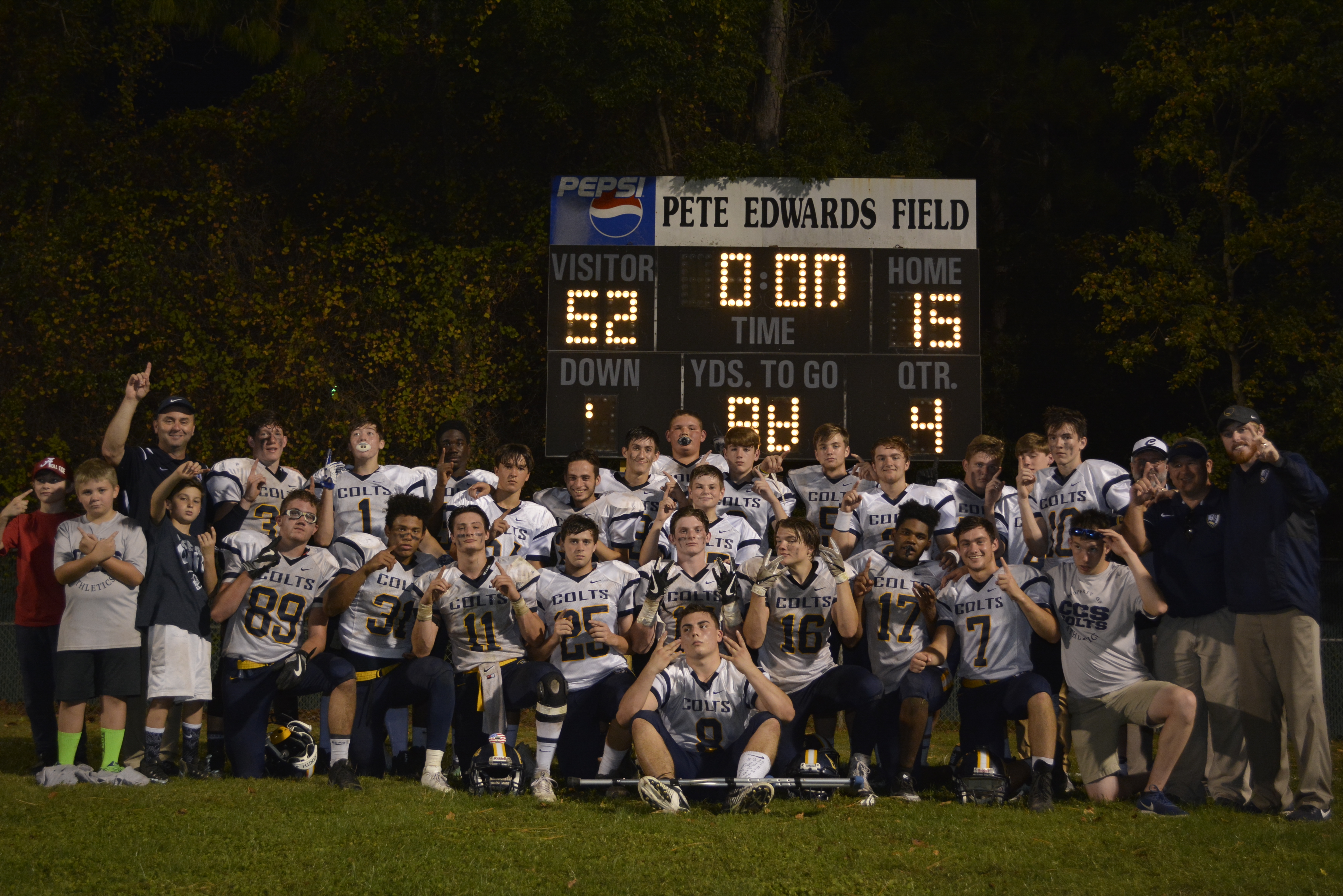 NHSA National Champions are the Christian Community Colts from White House, TN as they defeated the Russell Christian Academy Warriors (Meridian, MS) 52 – 15.
NHSA All-Star Team
Andy Gilbert – Hope Christian
Colten Rollins – Christian Community
Daniel Combs – Russell Christian
David West – Christian Community
DeVry Zapatta – Christian Community
Drew Taylor – Russell Christian
Ethan Key – Hope Christian
Jalen Cline – Christian Community
Jared McMullen – Russell Christian
Levi Morris – Life Academy
Nate Findley – Life Academy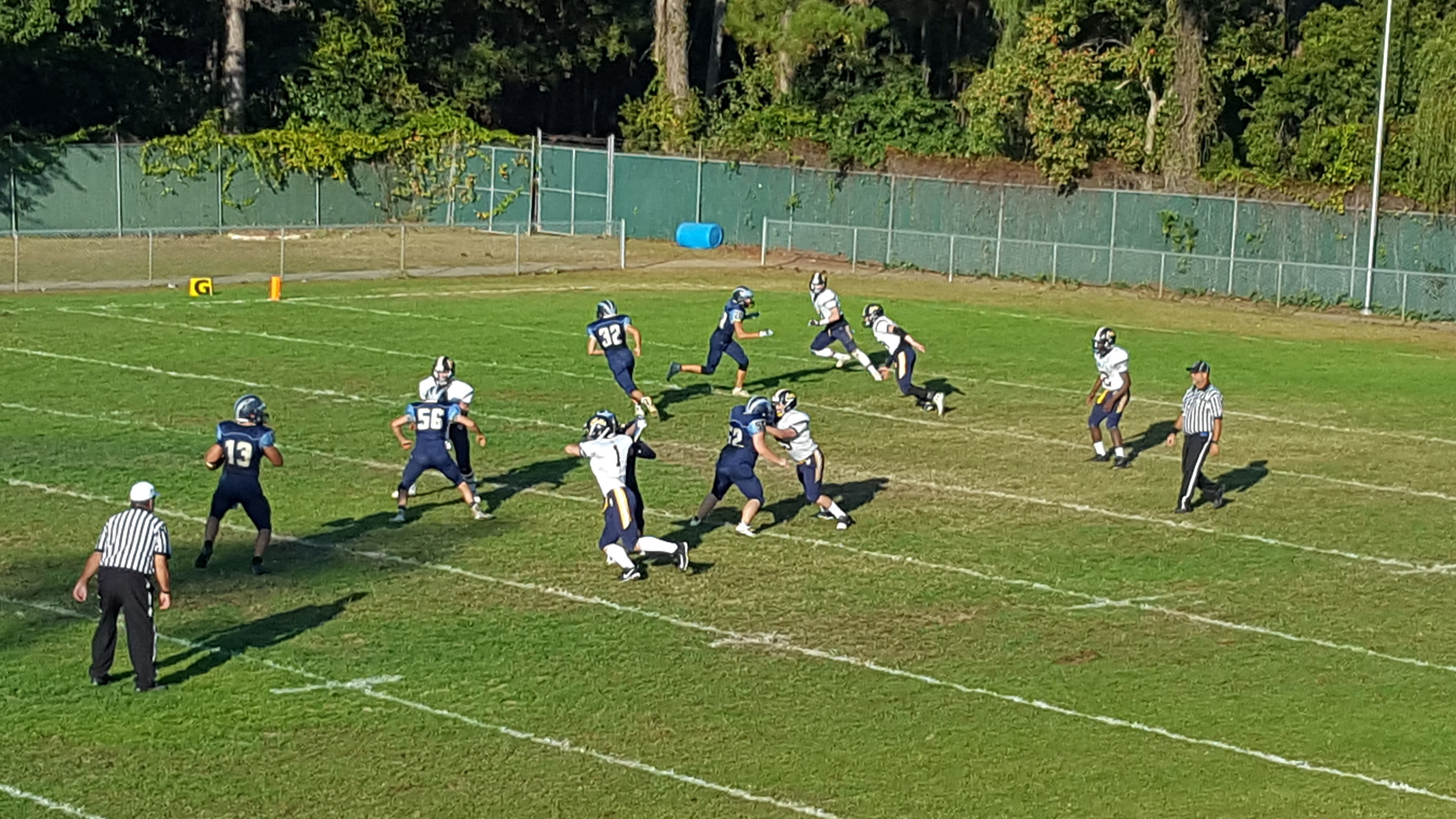 Russell Christian (blue) vs Christian Community (white)
________________________________________________
Final Score: Christian Community 52 Russell Christian 15
End of 3rd qtr: Christian Community 34 Russell Christian 15
Halftime score: Christian Community 26 Russell Christian 7
NHSA Consolation Game result: Life Academy 40 Hope Christian 0
NHSA Semifinal results:
Christian Community 46 Hope Christian 6
Russell Christian 32 Life Academy/Bakersfield 22
NHSA Tournament starts this Friday, Nov 10th with the opening ceremony in The Promise Land Auditorium. Teams competing in this year's tournament are:
Christian Community Colts (White House, TN)
Hope Christian Eagles (Pelham, AL)
Life Academy (Bakersfield, CA)
Russell Christian Academy Warriors (Meridian, MS)
______________________________________________________________
Laguna Beach Christian Resort
The Laguna Beach Christian Resort in Panama City Beach, Florida is one of the host facilities for the NHSA (8-Man Football) Tournament. All rooms/suites reservations are to be made through your football team who will work with the NHSA office to make all room reservations (do not contact Laguna Beach for rooms/suites).
Accommodations Include:
8 Acres Of Private Grounds
13 Swimming Pools
4 Heated Pools
Full Size Basketball Courts
Volleyball Courts On Grounds & Beach
12 Fully-equipped Commercial Kitchens
Beach front and beach access rooms
20 Meeting Rooms
Air-Conditioning
700 Seat Chapel/Auditorium on Grounds
Free Wi-Fi (internet access)
Large outdoor mall less than 5 minutes
Restaurants (major chains & local) nearby
To see a map of the Laguna Beach Campus, click.. HERE
If you are looking for the NHSA Tournament (11-man Independent) website, click here
To visit the NHFA National Championship (Homeschool football)website CLICK HERE
________________________
Registration is now open so please click on the "Team Registration Form" below, fill in the information required and send it in as soon as possible to reserve your spot.
Click here to view the 2018 Team Registration Form (8-man)
Click here for the 2018 NHSA Football Brochure
Each player must submit the following Player Eligibility Form before they can compete in the tournament.
Click here to view the 2018 NHSA (8-man football) Eligibility Form
Also, you will want the following information, so click here to see WHAT TO BRING
You can also get more information by calling 770-714-5775 or email to hankstdenis@aol.com
__________________________