CLICK HERE FOR TEAMS, SCORES, WINS AND LOSSES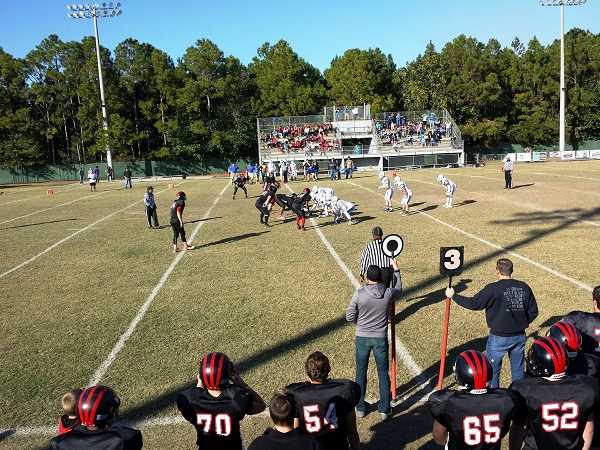 The 2016 NHSA (8-man Football) National Championship Tournament is open to Christian schools and Christian Homeschool teams from around the country that play 8-man tackle football. The Tournament is held in Panama City Beach, Florida with teams arriving on Friday, November 11th and ending with the Awards Ceremony on Monday, November 14th. Games will be played on Saturday, the 12th and on Monday, November 14th. Christian schools and Christian homeschool teams will compete for a National Championship.
Registration is now open so please click on the "Team Registration Form" below, fill in the information required and send it in as soon as possible to reserve your spot.
2016 Team Registration Form (8-man)
For more information and to view/print out the the tournament brochure, Click here for the 2016 NHSA Football Brochure
Each player must submit the following Player Eligibility Form before they can compete in the tournament. Click here to view the 2016 NHSA (8-man football) Eligibility Form
Also, you will want the following information, so click here to see WHAT TO BRING
You can also get more information by calling 770-714-5775 or email to hankstdenis@aol.com
Laguna Beach Christian Resort
The Laguna Beach Christian Resort in Panama City Beach, Florida is one of the host facilities for the NHSA (8-Man Football) Tournament. All rooms/suites reservations are to be made through your football team who will work with the NHSA office to make all room reservations (do not contact Laguna Beach for rooms/suites).
Accommodations Include:
8 Acres Of Private Grounds
13 Swimming Pools
4 Heated Pools
Full Size Basketball Courts
Volleyball Courts On Grounds & Beach
12 Fully-equipped Commercial Kitchens
Beach front and beach access rooms
20 Meeting Rooms
Air-Conditioning
700 Seat Chapel/Auditorium on Grounds
Free Wi-Fi (internet access)
Large outdoor mall less than 5 minutes
Restaurants (major chains & local) nearby
To see a map of the Laguna Beach Campus, click.. HERE
________________________________________________________________
2015 NHSA National Champions Life Academy Volunteers (Bakersfield, CA)


Click here to view the 2015 NHSA Championship game between Life Academy Volunteers and South Haven Patriots
Life Academy edges South Haven 30-28 to win the 2015 NHSA National Championship 8-Man Football
It was a battle of unbeatens, South Haven 13-0 vs Life Academy 10-0, that came down to a 2-pt attempt with less than 2 minutes to go in the game. Unfortunately both teams deserved to win, but South Haven's attempt on the 2-pt attempt failed when the snapped was bobbled and Life was able to stop the Patriots short of the goal.
NHSA Game results for Monday, November 16th:
Christian Community 44 Kern 22
Freedom Cowboys 32 Sacred Heart 28 (below is link to video of game)
1st Half: Freedom Cowboys vs Sacred Heart
2nd half: Freedom Cowboys 32 Sacred Heart 28
_____________________________________________
NHSA Game schedule

Game #1 Christian Community 20 Freedom Cowboys 14 (Bracket A)
Game #2 South Haven 28 Sacred Heart 12 (Bracket B)
Game #3 Life Academy 36 Freedom 8 (Bracket A)
Game #4 Sacred Heart 24 Kern Rangers 14 (Bracket B)
Game #5 Life Academy 18 Christian Community 14 (Bracket A)
Game #6 South Haven 45 Kern Rangers 20 (Bracket B)
______________________
Freedom Cowboys from Huntsville, Alabama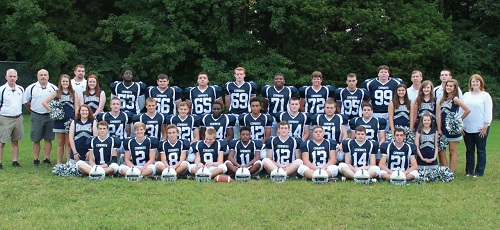 _________________________________________
2015 NHSA Tournament Teams (Alphabetically)
Christian Community Colts (6-3)
Freedom Cowboys (7-2)
Kern Rangers (4-4)
Life Academy Volunteers (8-0)
Sacred Heart Knights (8-0-2)
South Haven Patriots (11-0)
___________________________________________
2014 Championship Game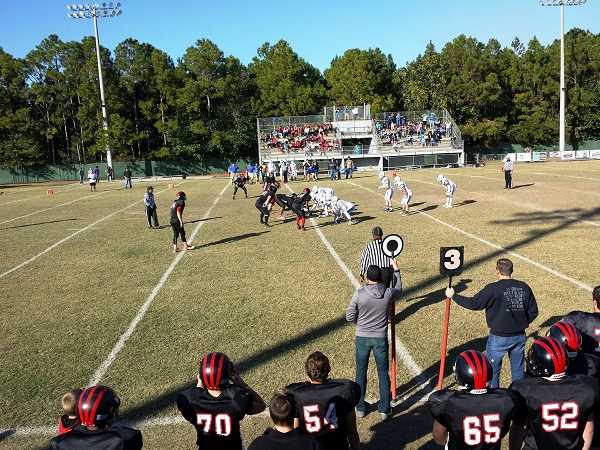 Picture above is from the 2014 Championship Game between Central Christian from Sharpsburg, GA and Memphis Nighthawks (in black)
__________________________________________________
CLICK HERE TO VIEW THE NATIONAL HOMESCHOOL FOOTBALL ASSOCIATION NATIONAL CHAMPIONSHIP TOURNAMENT