CENTRAL CHRISTIAN WINS 2014 NHSA CHAMPIONSHIP
Central Christian finishes turnaround season with NHSA title
by Chris Goltermann
Saturday, November 15, 2014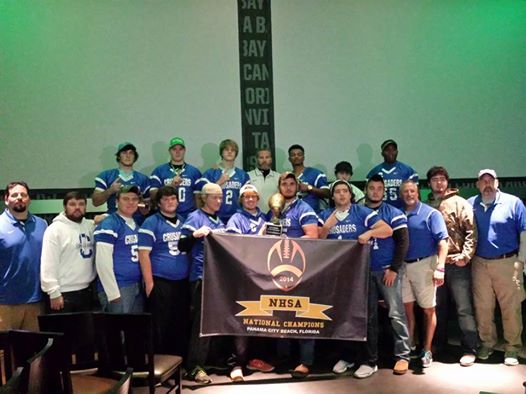 A year after struggling to come up with a single football victory, Central Christian's 8-man program rose to the greatest achievable heights in 2014 in a 13-win season capped off on Friday by winning this year's NHSA national championship.
The Crusaders, led by second- year head coach and longtime assistant Paul Frantz, defeated the Memphis Nighthawks 38-18 in this year's title game at Pete Edwards Field in Panama City, Fla.
In an impressive finale to a year that already included an Alabama league championship in its first season as a member, Central used a 14-point surge in the second quarter to pull away from the Nighthawks, last year's national runner-up, while handing the homeschool program its first loss of the season.
Meanwhile, 13 Central players battled through 13 victories during a season where opponents tried to speed up the game to their favor only to fall short. At least six Crusaders missed action at times during the stretch without it affecting Frantz' lineup.
'I can't even explain it. These kids, they worked hard all through the summer. They put the work in. It's not about me, it's about them,' Frantz said. '[Offensive coordinator Jeff] Weaver brought it up to me. Thirteen wins. Thirteen players. They say 13 is an unlucky number, but it's my favorite.'
After missing Wednesday's 56-0 victory in the NHSA semifinals with a shoulder injury, junior quarterback Jared Farlow capped off a record season by rushing for 160 yards and a touchdown while also finishing with 111yards passing in the victory.
Senior Charlie Lee accounted for all of it en route to championship game MVP honors, hauling in all four of Farlow's completions, including a 79-yard touchdown catch after Memphis (9-1) pulled within a 22-12 deficit with 4:43 left in the third quarter.
Lee, who played through an ankle injury earlier in the season, also helped Central answer again in the third after the Nighthawks crept back within two scores by returning a Memphis kickoff 99 yards to put the game out of reach for a final time.
Three touchdowns in the final gave Lee 30 for the 2014 season while finishing with 1,320 yards rushing and 483 receiving.
The Crusaders' defense did its part in the championship game, finishing with four sacks, one of which forced a key turnover while holding Memphis on fourth down in an 8-6 lead. Christian Parkerson caused a fumble that was recovered by brother Jesse.
The turnover led to a 7-play drive by Central that ended with a five-yard scoring run by Lee and a 16-6 advantage with 7:57 left in the second quarter following a 2-point conversion by Farlow.
Junior Wyatt Martinez, who was credited with 21 tackles, set another new mark for the program defensively for hits in a single season with 130.
Central came up with a final fourth-down stop late to seal the victory.
'It was the same thing. They tried to speed it up with no huddle thinking it would wear us down and it didn't,' Frantz said. 'We knew the summer was going to be a key for us. They bought into it from the beginning. We weren't a bad football team last year. You've got to stay away from injuries and fortunately we didn't have a ton of them at the same time. When we did have them, we kept going.'
The Crusaders took a 22-6 lead into halftime following Farlow's 17-yard touchdown with 2:50 left in the second quarter.
Memphis countered immediately with an 11-play drive to begin the third quarter as teams traded two touchdowns apiece to close the scoring.
The national championship caps off a roller-coaster three years for Central, previously known as Heritage Christian, beginning with a trip to the finals of the Independent Christian Schools of Georgia and Alabama league in 2012.
2014 NHSA 8-Man MVP
Charlie Lee Jr. – Central Christian #6
2014 NHSA 8-Man All-Star Team
Andrew Boutin – Christian ArchAngels #75
Bailey Todd – Central Christian #22
Ben Hoffpauir – Christian ArchAngels #17
Christian Parkerson – Central Christian #75
Danny Quintana – Life Academy #85
David Cruz – Life Academy #44
Evan Merryman – Memphis Nighthawks #32
Jared Farlow – Central Christian #2
Kevin Tillman – Memphis Nighthawks #47
Matthew Murray – Memphis Nighthawks #45
Michael Baudoin – Christian ArchAngels #7
Tim Whitfield – Life Academy #3
Below picture of Memphis Nighthawks vs Central Christian (white jerseys) and below that is picture from the Awards Ceremony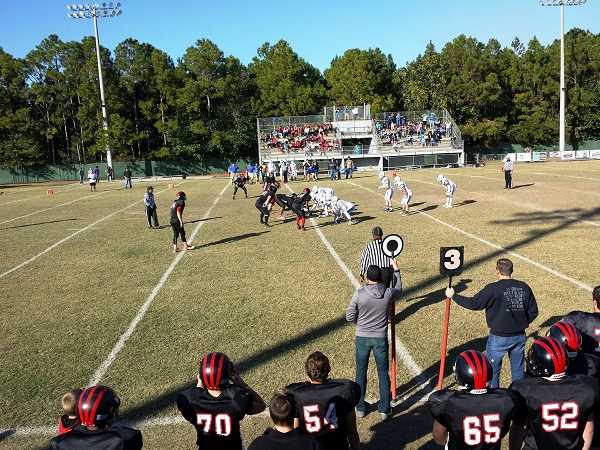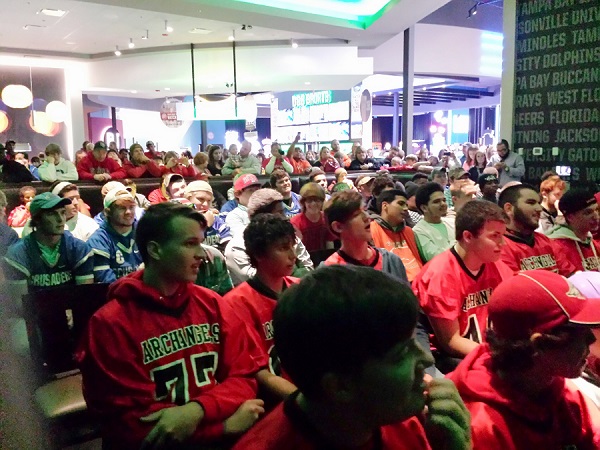 Welcome to the 2014 NHSA (8-man Football) Tournament website!

Wednesday Semifinal game results:
Central Christian 56 Christian ArchAngels 0
Central Christian's Charlie Lee got the scoring going for the Crusaders from Sharpsburg, Georgia scoring with 9:33 in the first quarter.  QB Rodney Allen connected with Jordan Fuller on the 2-point attemp and Central Christian was on their way to earning a birth in the 2014 National Championship.
Memphis Nighthawks 38  Life Academy Volunteers 8
Evan Merryman made sure the Memphis Nighthawks would be in the National Championship as his bruising style of running with his deceptive speed led to several scores, but he kept numerous drives alive as well by refusing to go down as the Volunteers from Life Academy tried to tackle him.  Memphis controlled the ball and drove up and down the field, however, the Vols were able to keep close (16-8) at the end of the  until midway through the 4th quarter.  Merryman's runs finally took it toll on the Vols players and the Nighthawks were able to pull away for the victory putting them into the National Championship.  The game was a rematch from last year's National Championship which Life Academy from Bakersfield, California won.
This year's tournament features 3 of the top Christian 8-man football teams from their state and league:
Central Christian Crusaders from Sharpsburg, Georgia are the top ranked team in Georgia as well as the ACSC league champions.
Memphis Nighthawks from Tennessee are undefeated  while playing an independent schedule and beating teams from Arkansas, Mississippi and Tennessee.
Life Academy from Bakersfield are undefeated and the top ranked team in California.  They are the defending NHSA National Champions.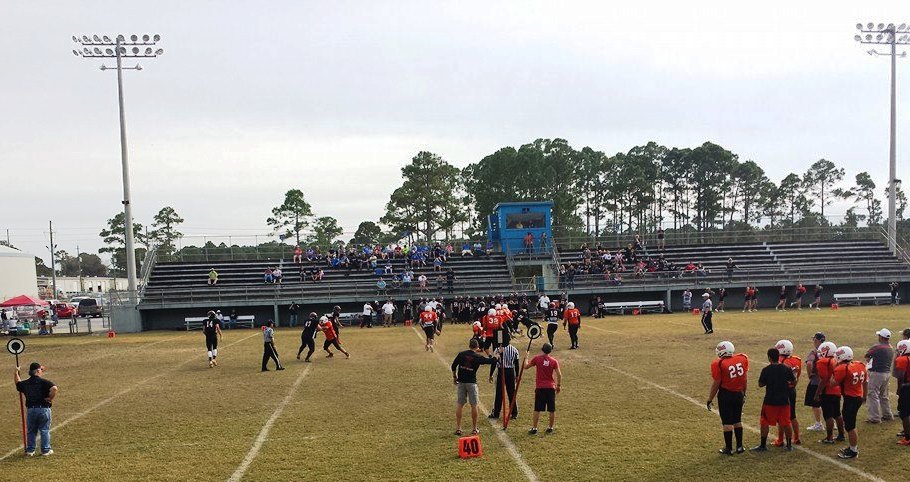 Above:  Life Academy (Orange jerseys) versus Memphis Nighthawks (black) in Semifinal game
_______________________________________________
CLICK HERE TO VIEW THE NATIONAL HOMESCHOOL FOOTBALL ASSOCIATION NATIONAL CHMAPIONSHIP TOURNAMENT