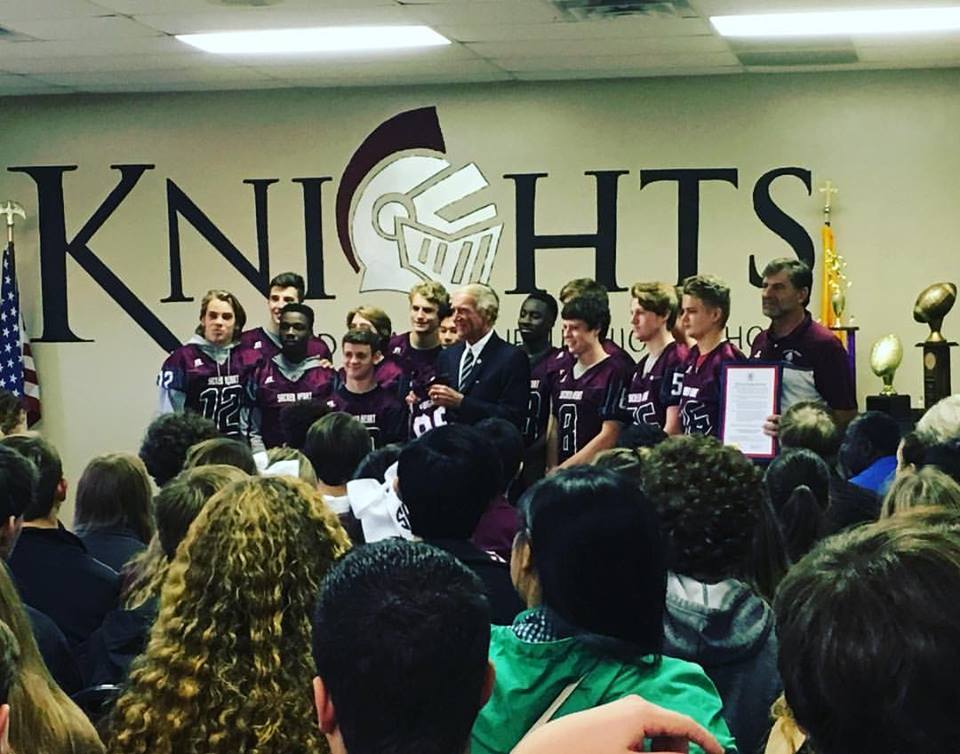 Mayor of Jackson, Tn. congratulates the 2016 NHSA National Champions Sacred Heart of Jesus Knights
NHSA Championship: Sacred Heart 60 Freedom Cowboys 58
Sacred Heart QB Evan Ashlock scored on a two point conversion with no seconds on the clock after throwing a 37 yard td pass to Sid Bryant to tie the score at 58 and win the 2016 NHSA National Championship.
Consolation Game: Cornerstone Spartans 22 North Georgia Falcons 6
Game 1 results: Freedom Cowboys 24 Cornerstone Spartans 20
Game 2: Sacred Heart Knights 40 North Georgia Falcons 32
The 2016 NHSA National Championship Tournament (8-man football) will have the Cornerstone Spartans from Joplin, Missouri playing the Freedom Cowboys from Huntsville, Alabama and the Sacred Heart Knights from Jackson, Tennessee going against the North Georgia Falcons.
Cornerstone won their state championship defeating Life Prep 66-54 and finishing the season 8-1. Collin Lowry leads the Spartans attack which averages 53 points a game. Austin Martin, Matt Roberts and Ray Dohmen are the defensive leaders.
Freedom Cowboys are undefeated at 9-0, averaging 44 points a game while giving up 22. The Cowboys beat 4 teams from Tennessee, 4 teams from Alabama and a team from Mississippi.
Sacred Heart defeated The Webb School 60-34 in the Tennessee state championship game. The Knights average 51 points a game allowing 24 points while finishing with 9 wins against 3 losses.
North Georgia won their state championship and finished 7-2. The Falcons are led by senior running back Josiah France, but it's their defense that has carried them led by Daniel Lazalde, Jon Jumper and Trey Baker.
_____________________________________________________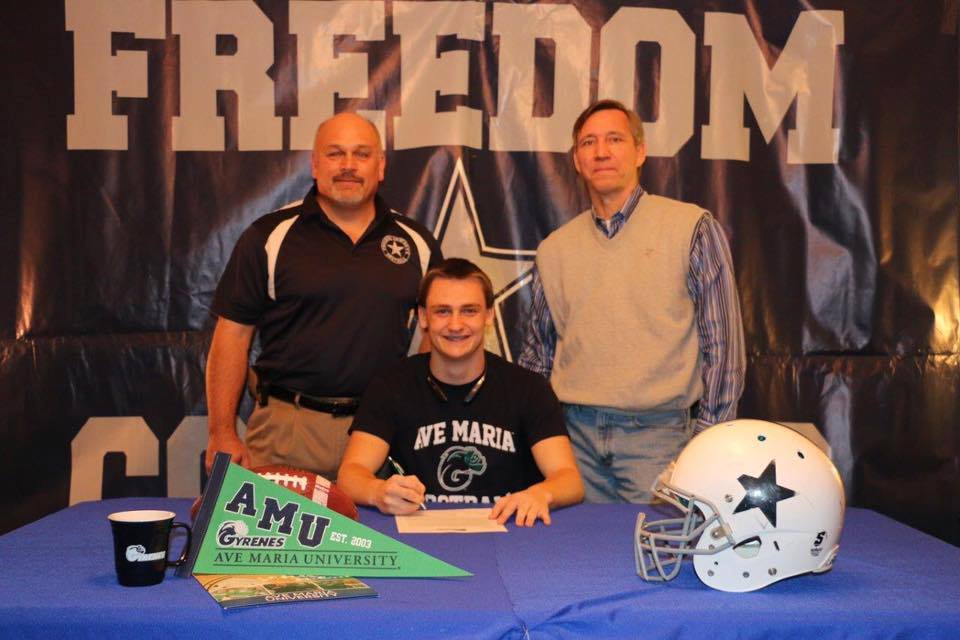 Freedom Cowboys RB Johnny Krzyminski signs with Ave Maria University to play football. Johnny played for the Freedom Cowboys in the 2016 tournament