Christian schools and Christian homeschool teams interested in competing should fill out the following form and mail it to the NHSA office (shown on bottom of form).
CLICK HERE TO VIEW THE 2021 NHSA 8-man Football Team Registration Form
Teams are also required to fill out Player Eligibility Forms for each player and submit them prior to competing in the tournament.
CLICK HERE TO VIEW THE 2020 NHSA (8-man football) Eligibility Form
COST PER PLAYER/COACH/PARENT/FAMILY MEMBER/CHEERLEADER/FRIENDS
Cost per player, coach, parent, family member and friend is $120, family max is $600 (there is an additional $50 fee if there only one or two people in a room) and includes lodging (Friday, Saturday, Sunday and Monday night), three meals (hot breakfast Saturday, Sunday & Monday) and Awards Ceremony Monday night. There is no admission to games, no field rental and football officials fees. Teams have access to a fully-equipped kitchen with dining room where they can prepare lunches, dinners and snacks. Dining room can be used for meetings. Ice machines are available in the dining rooms and teams can load up coolers with ice prior to leaving for the football field.
LODGING/HOUSING AT LAGUNA BEACH CHRISTIAN RESORT (PANAMA CITY BEACH)
Lodging for the 2019 National High School Tournament (8-man football) will be at the Laguna Beach Resort in Panama City Beach, Florida. All arrangements for rooms will be handled through the National High School Football Tournament office (770-714-5775). Do not contact Laguna Beach to make reservations. Each person/family will be assigned rooms and can pick up their key at the Laguna Beach front desk when they arrive.
Teams will be housed together in dorms that have beds, baths and showers. Families will be housed closed to the team and will be assigned Suites. Most suites have at least one double bed plus several bunk beds, at least one bathroom, plus a living room area (with TV), small kitchen (fully equipped) with table & chairs. There are several different size suites and they can house anywhere from 2 to 12 people in a suite.
There are several grocery stores, including WalMart and Target, as well as almost every type of fast food and table service restaurant all within minutes of Laguna Beach Resort.
What to do?
The Laguna Beach campus has several swimming pools, volleyball and basketball courts in addition to the beach. Panama City Beach is a well-known resort that has all types of activities. There is a large outdoor mall within a few minutes of Laguna Beach.
Football Stadium Location
Football field is Pete Edwards Stadium located at 7300 McElvey Road, Panama City Beach (about 15 minutes from LBCR). There are bathrooms, but no showers. McElvey Road is off Thomas Drive which is to the right just before the bridge to Panama City.
Below is the link to the location of Pete Edward Stadium:
CLICK HERE TO VIEW MAP OF PANAMA CITY BEACH AND LOCATION OF PETE EDWARDS STADIUM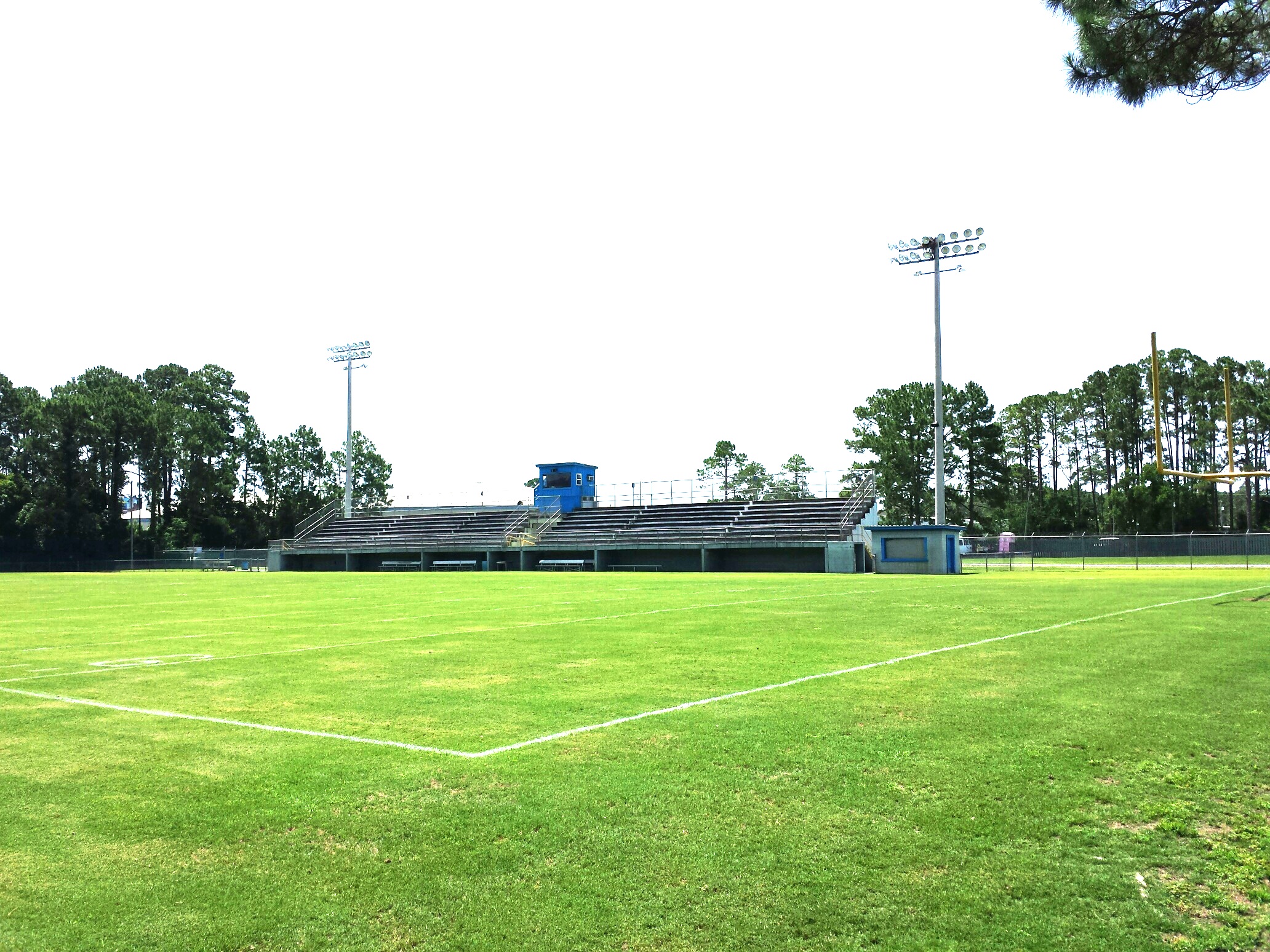 ______________________________________________
CLICK HERE TO VIEW THE NATIONAL HOMESCHOOL FOOTBALL ASSOCIATION NATIONAL CHMAPIONSHIP TOURNAMENT