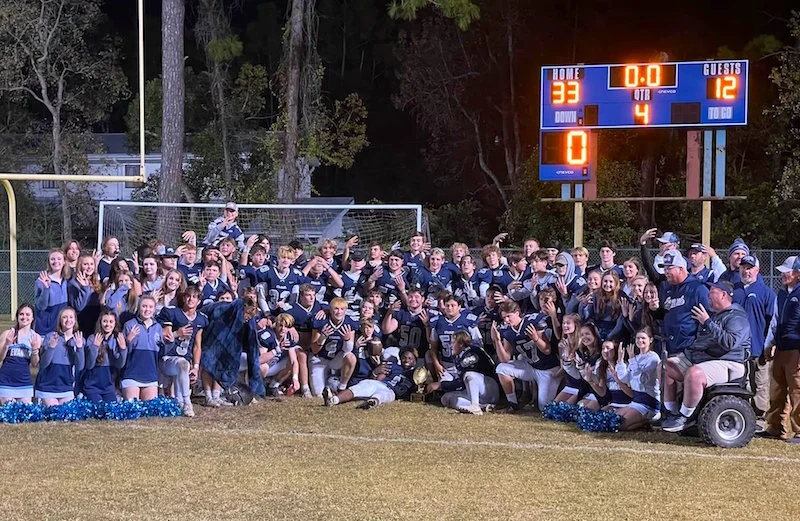 2021 NHSA National Champions Evangel Christian Lightning
Evangel defeated Freedom Cowboys 33-12 to win their 4th straight National Championship. In a season where Evangel faced strong competition and were not favored to win the Championship, the ability to make big plays helped them keep their streak of Championships. MvP Christian Chapman led the way as his 4 interceptions, one a pick six stymied the Cowboys offense. He also had a special teams big play as he returned a kick for a touchdown.
The Evangel Christian Blue Lightning beat the Southern Prep Rangers to win the Division 2 Championship 42-26.
The DIV 2 Consolation game saw the Tennessee Heat edge Westminster Christian 53-52 in a wild ending to the game.
2021 NHSA 8-MAN FOOTBALL MVP & ALL STAR TEAM
MVP Christian Chapman – Evangel Christian
Aden Luchtenfeld – Tennessee Heat
Caleb Lumpkin – Evangel Christian
Cooper Knecht – Grace Baptist
Corey Murphy – Ezekiel Academy
Eli Whitfield – Evangel Christian
Divante Adams – Southern Prep
Gabe Guliiory – Westminster Christian
Garrett Peebles – Southern Prep
Gavin Maynard – Freedom Cowboys
Harris Black – Evangel Christian
Isaiah Zorn – Ezekiel Academy
Judah Thompson – Evangel Christian
Keandre Hatfield – Tennessee Heat
Mason Long – Grace Baptist
Nathan Ogletree – Freedom Cowboys
Nelson Goulas – Westminster Christian
Payton Patchel – Ezekiel Academy
Owen Wolfe – Southern Prep
Oliver Johnson – Freedom Cowboys
TJ Lorio – Freedom Cowboys
Tyler Parrott – Grace Baptist
Honorable Mention:
Brock Stomps – Westminster Christian
Caleb Adam – Grace Baptist
Cecil Coon – Ezekiel Academy
Cole Mason – Grace Baptist
D'andre Martinez – Tennessee Heat
Dylan Weathers – Evangel Christian
Evan Cole – Southern Prep
Joshua Butler – Freedom Cowboys
Matty Spackman – Ezekiel Academy
Pierce Dalton – Freedom Cowboys
Zach Chandler – Evangel Christian
____________________________________________